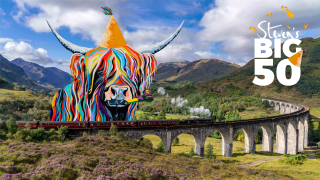 Rubbing shoulders with the likes of Tesco, Just Eat and HSBC as finalists in the Drum's Digital Advertising Awards isn't just a big privilege (and a bit unreal). It's a sign that bold ideas and brave clients can make a difference in any industry.
Our Big50 campaign, created in partnership with Emma, Gemma and the team at Steven Brown Art, celebrated the 50th birthday of artist Steven Brown, whilst promoting a special online sale. It was a record-breaking weekend in the history of the brand:
The campaign resulted in the highest level of sales in the company's history, beating Black Friday 2020 which was the company's previous highest result.

The Facebook campaign structure led to a ROAS over the weekend of 44.46 and a blended ROAS (including all other channels) of 44.3.
The success of the campaign is already making an impact, with Steven Brown Art's marketing team looking to the future:
Beyond it's sales performance, this campaign has provided us with so much insight into the direction of activity and strategic focus of the business going forward, and the team is already pulling ideas together based on the information analysed through this campaign. We've worked with Fluid since November 2021, and I couldn't be happier with the results we have seen to date. I have never worked with an agency that feels like a genuine and authentic extension of the internal marketing team.

– Emma Greaves, Brand Manager, Steven Brown Art
You'll find Fluid in the Best Paid Social category for the upcoming Drum Digital Advertising Awards… we'll be crossing fingers, toes, and everything else for the awards night on April 21st. Full case study coming soon!