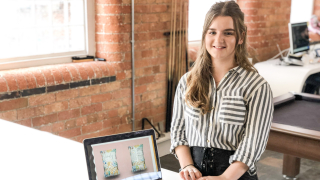 For my first ever work experience, Fluid has been such an amazing place to start and work in for a week. Not only are all the staff so friendly and willing to help out if you need anything but the environment is extremely relaxed and makes you feel like a part of the team.
I think I surprised myself for not choosing the branding and design brief of the popcorn packages however if I could choose again, I would stick with the marketing brief as I have become more interested in how the product is sold to its audience rather than just how it looks. My attitude towards the brief has shifted greatly over the course of just a few days. I went from having very little ideas of how to continue with my presentation, to coming up with 2 very different yet interesting ideas that we could further develop throughout the week.
There's something about being in such an open environment surrounded by the friendliest of people that really helps to uncover a creative side of you that you never even knew existed.
The standout points that I would share with anyone would be to always come in with an open mind to ensure you get the most out of your experience and to feel free to always ask questions. Not only are the team more than happy to answer your question but, if they have the time, you can ask them about how they got into their jobs as most people have taken very different routes and yet ended up in the same place. So, it's all about what works for you.
From learning about social marketing to branding and creating, to Image and motion, there is no end to the genius talent of the Fluid team - you just have to figure out what suits you. Pick the brief you feel you can work the best with and let your creativity flow. I never would have counted myself as a creative person before starting this work experience, however by the end of the week I have surprised myself at how many ideas (both good and astonishingly bad) I have managed to squeeze out of my mind and develop. Must be the great taste in music and the excellent Fluid mascot dogs they have.