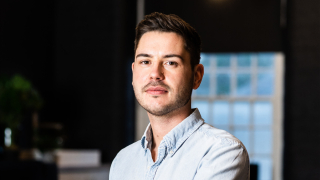 Fluid has been steadily growing over the last couple of years, and our most recent recruit is Josh, who became part of the Brand & Creative team back in January.  Now he's had time to settle in, we thought it'd be a good time to introduce him. We had a little chin-wag about his time at Fluid so far…
Tell us a little bit about your role…
I'm a part of the Brand & Creative team at Fluid, which includes creating identities for new and existing brands as well as marketing concepts and campaigns. My role is involves research, design experimentation and implementing feedback from the wider team throughout the creative development.
How do you feel you've settled in to Fluid? 
Really well, I feel like I've been here and known everyone for ages.
What clients have you been working with? 
Quite a few – the University of Nottingham, IVC Evidensia, East Midlands Railway and Oxfordshire County Council to name just some of them.
What's been the most memorable brief you've worked on and why?
We recently pitched to create a brand identity for a transport link. 
It was the first big project for me at Fluid, and it required a wider team. I got to work with colleagues that I hadn't worked with yet, and it was an opportunity to push our creativity, share all of our ideas and to work as team, showcasing our strengths. 
After this project, I realised I had made new relationships and friends at Fluid. 
While we didn't win the pitch, I'm grateful to have been involved in it.
What's your favourite thing about the Fluid culture? 
Wellbeing. It's been really refreshing and lovely to be working somewhere that cares about individuals and provides so many incentives, activities and rewards to keep us happy and healthy. There's always a little reminder that you are valued and important to Fluid.
What is your dream client?
Leon the food chain. I'm big foodie and love their branding. They have restaurants, food products in supermarkets, books and digital. They would be amazing to work with.
Who would be your dream dinner party guests? 
Nigella Lawson and Ina Garten. I've watched a lot of their cooking shows over the years and these two sure know how to throw a dinner party!
What album are you most likely to sneak onto the Sonos in the studio? 
Aaliyah – One in a Million
First album? 
Spice – Spice Girls
Can you share a fun or surprising fact about you? 
I only ate a whole pear for the first time two weeks ago. 
On that note, we'll let Josh get back to the studio fruit bowl…who knows what delicious delights will be in next week's box.