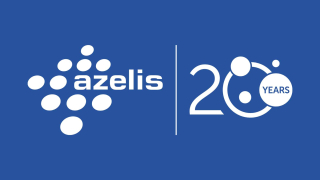 Creative agency Fluid Ideas has partnered with a global chemicals giant through a pivotal period of its history, providing creative support and brand guidance through both a 20th anniversary celebration, and a successful stock market flotation.
Azelis, a leading global innovation service provider in the speciality chemicals and food ingredients industry, listed its shares on the Euronext Brussels stock exchange in the autumn in a move which raised 1.77bn euros, giving the company a market value of over 6bn euros.
Fluid Ideas has worked with Azelis for a number of years and helped it to prepare for the IPO and to mark its 20th anniversary by producing videos, animations, photography, copy, banners and corporate presentations to highlight the company's strengths to a global audience, based around the growth pillars of sustainability, innovation and digitalisation.
Azelis, which has its headquarters in Antwerp, employs 2,800 staff across 56 countries and serves over 45,000 customers worldwide. In addition to its distribution business, Azelis has a network of over 60 laboratories where new products and ingredients are tested.
Staff across Fluid Ideas' brand and creative, design and artwork and image and motion teams were involved in the projects for Azelis, whose strapline is "Innovation through formulation".
Joint managing director Ed Bowler said:
"We're extremely proud to have worked on these landmark initiatives for Azelis. The flotation was a resounding success with international institutional investors, and we are delighted to have played our part in supporting the company on the latest phase of its journey.
"As the guardian of the Azelis brand, we have developed a refreshed organisational identity, with a focus on the three growth pillars of sustainability, innovation and digitalisation, which give the brand a very strong identity.

– Ed Bowler, joint managing director at Fluid
"Our work involved embedding these core strengths in the very foundations of the existing global brand, in turn communicating them clearly to investors to enable them to immediately recognise what Azelis stands for, and why the company exists.
"It's been an exciting period for Azelis, and there is still a lot to come from the brand as it enters a new era following its flotation."
"Fluid Ideas have been a trusted partner to Azelis for years, supporting us through many important projects and milestones. They have always provided good advice and creative direction, delivered high quality work and have been generally highly reliable and resourceful. I look forward to many more joint undertakings."

– Marina Kaptein, Corporate Communications Director at Azelis