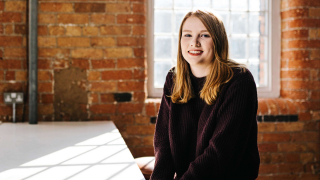 I am very excited to be back at Fluid for a six-month placement after first coming here when I was just 15. Over the past 3 years I've been at Fluid in a number of ways, as a Year 10 and Year 12 work experience, as a month placement in the summer to gain experience, as a fortnightly afternoon session to help build up my portfolio and doing some freelance-style projects at home.
What I have done at Fluid has shifted greatly since I first arrived. I originally was largely focused on Graphic Design, and I was also interested in learning to code and possibly pursuing front-end web development, but throughout my time here I have remained consistently focused on strategy and social media marketing more generally, producing more analytical reports. During this six-month placement I am able to pursue this further, working with exciting clients like Liversage Trust (the oldest charity in Derby!) to propose social, branding and web strategies.
 
When I was thinking back to what Fluid has offered me, allowing me to work with all aspects of the company, from digital and social to design and project management, two things shone through: their kindness, and how glad I am I worked really hard that first week of work experience!
So, this post, whilst offering a brief introduction to me, will hopefully help other people applying to work experience to get the most out of it, and open up future opportunities.
These are my top 5 tips for getting the most out of a marketing or design work experience placement:
Before you apply, research the company! Send a personalised email where you mention the projects you find most interesting that they have worked on recently. Not only will this help you stand out during the flood of emails, it will also mean they have an understanding of your interests so are able to better tailor the placement to you.
‍

Choose the brief that you think you can do the most with, not necessarily the most seemingly easy or 'fun'. The brilliant thing about work experience at Fluid is that they give you an opportunity to work on a past brief for a week, offering you the support you need to complete it, and then you present it at the end. I think I surprised everyone when I chose to do a brief rebranding an accountancy firm, rather than popcorn packaging. But I was really interested in experimenting with digital and learning to use Wordpress, so although it was not in the brief I built a Wordpress site and came up with a social media plan. This did mean I was often working in the evenings too, but it meant I got the most out of the placement, and the digital team were willing to help, which meant I learnt tonnes from all departments.
‍

Ask questions! Although it seems nerve-wracking at first, everyone at Fluid is lovely and always willing to help, and you will learn so much. Ask for help when you need it, but also ask about how they got into design (if that is what you are interested in) as you will learn there are many different routes, and they may even have recommendations for good university courses, if that is what you are considering doing in the future.
‍

Practice your presentation. At the end of the week, you will most likely be asked to present your work. Although it is quite casual, it will make you more confident if you have run through it and have a clear order of what you would like to say, and you will probably deliver a better presentation because of it. You will have worked hard all week, so make sure your work shines.
‍

Keep in touch. Send an email to say thank you after the week, and if you did enjoy your week and would potentially like to come back, it is worth keeping in touch, as it may be easier to get year 12 work experience or future opportunities.