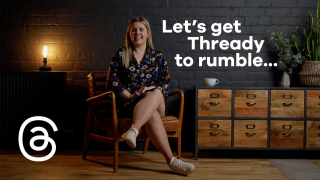 Unless you've been living under a rock, you may have heard about Threads - the new social media platform by Meta – which launched last week.
With 100 million users signing up in five days, the anticipation is high for this Twitter-esque platform.
Twitter has been facing a backlash from users since Elon Musk took the helm, and Threads has swooped in with a similar platform that addresses some of the Twitter community's bug bears.
So how does Threads differ from Twitter?
Threads currently has no adverts and no hashtags (which means no trending topics), nor does it have a website or a direct messaging function.
Even though the platform is clearly in its infancy, the masses are already flocking to it, which means brands are too. 
Here, Grace examines Threads in a little more detail, and contemplates how brands may utilise this new platform as part of their wider social strategy.