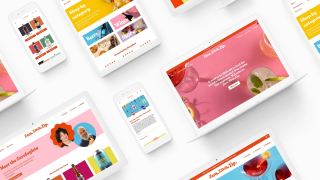 That's just one of the reasons we've expanded our e-commerce offering to bring bespoke Shopify development in-house as Fluid's web and systems team expands. Not only is Shopify one of the world's most trusted e-commerce platforms, but in a world where speed can be everything, it allows us to deliver first-class e-commerce experiences in a matter of weeks.
Fluid's lead Shopify developer, Rich said:
"Although I only joined Fluid towards the end of 2021, it's already clear just how important Shopify is going to be for many of our clients. Not just in supporting existing e-commerce businesses, but launching new brands, and helping established organisations to evolve and embrace the opportunities of online selling. It feels like the perfect foil for our long-standing Drupal specialism."
The Liquid codebase provides the foundation for the whole of Shopify, providing a language that empowers our development team to create websites with real speed and agility through its in-built features, variables and arrays.
Fluid's most recent Shopify launch is for ZeroZilchZip, the world's most carefully curated collection of alcohol-free drinks, and an e-commerce site that was developed and delivered in just five weeks.