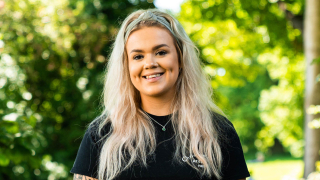 Hello, I'm Lauren, a Digital PR & Influencer Manager at Fluid. Most of my days are spent working closely with influencers; curating campaigns and outreaching, or delving into the world of PR with lots, and lots, of writing. 
Monday
After I've dragged myself for a 7am gym session and given my chihuahua the boujee-est breakfast you've ever seen, Mondays in Search & Social begin with a team meeting where we go through priorities for the week using Asana. It's a great way for us to catch-up after the weekend, and to start the week off focussed on what needs to be achieved.
I'm a bit of a stickler for organisation, so I actually have my own personal Asana set up day-by-day for the week. After our morning meeting, I tend to go through in order of priority and fill out my days for the week. I find this helps me stay focused and prevents me from feeling overwhelmed if my workload is particularly heavy that week. It also allows me to jump on any ad-hoc things, too.
Although no two weeks are the same for me, I often spend Mondays replying to emails that I've received over the weekend from influencers, or writing press releases and articles ready to get these signed-off and sold into the press. This week, I spent the majority of the day writing a brand refresh PR piece for our client SDL Property Auctions.
Tuesday 
Tuesdays are one of the best times to sell anything into the press, so I usually spend my days either pitching to journalists or writing. This week I have been doing a lot of writing. So I spent most of the day Tuesday working on an exciting consumer facing PR piece for SDL Property Auctions, as well as liaising with trade journalists too. 
This week, I also did some influencer searching too - and this time, it was for something that is truly close to my heart… dogs! (Well, it was for pets, but… dogs!). Searching for influencers that would be suitable for a collaboration with a veterinary client was a lovely way for me to spend some of my day on Tuesday.
Wednesday
On Wednesdays, the Search & Social team all try to get into the office together, and we have our big team meeting where we discuss five things we're working on, as well as go through our "wins" and "challenges" for the week. My personal "wins" and sometimes "challenges" usually revolve around my beloved chihuahua, Beanie. 
Other than our meeting, I spent most of Wednesday doing more writing. I was working on finishing up the SDL Property Auctions piece from yesterday, as well as writing this blog. I did spend some time researching new PR platforms for us to use, too. It's always good to keep up to date with the latest software and see what's available! 
Thursday
Usually towards the end of the week, I work on scheduling content for my social media client ZeroZilchZip. I work on scheduling at least one week at a time, so this usually takes up quite a chunk of the day. This week, I've also been working on outlining some clear social media pillars for the client too. 
In the PR world, I've been working on selling in an article for Waterstons, and I have also written a piece for a veterinary client, too. 
Friday
I do typically spend a few days a week working on influencer campaigns, which can be anything from searching for influencers to outreaching, to reporting on recent campaigns. This week was actually quite light on influencers, and quite heavy on writing, so I didn't do much of that.
We have our Fluid Chit Chat Friday call at 11am, where the entire team gets together on a Zoom call to discuss what's been happening that week, as well as culture updates and any other business news.
I spent Friday afternoon trying to get everything tied up for the week as I was about to have a week off. The reason for my week off being that I would be picking up another chihuahua puppy as a best friend for Beanie… I did already mention I love dogs!